Welcome to the Museum of Masters Track & Field!
Masters track and field has a rich history, and this site is dedicated to preserving it. Literally thousands of pages of material can be found here, including virtually all World and American championship meet results. They are collected all in one place for the first time as a tribute to the athletes, officials and masters leaders who made it possible. This site will grow. So have patience as we build the online masters museum first envisioned by Andy Hecker. Enjoy! And let us know what you think.
---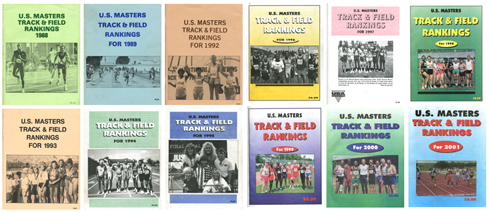 Starting with the 1988 season and lasting about 14 years, National Masters News published annual "U.S. Masters Track & Field Rankings." These books collated thousands of marks published the previous year in the monthly National Masters News. Dozens of compilers under the leadership of NMN senior editor Jerry Wojcik worked on this project, ending about 2003, when mastersrankings.com debuted online. With permission from Randell Sturgeon, the current publisher of National Masters News, these books are now online. They are in PDF format and searchable. You can look for specific names and events. The USATF Masters Track Historical Archive Committee thanks Randy for sharing this treasure trove.
---
Special thanks to David Pain and Randy Sturgeon
USA masters founder and pioneering meet director David Pain and National Masters News Publisher Randy Sturgeon have provided immense help with this archive site. David's contributions include his vast memorabilia and United States Masters International Track Team newsletters from the 1970s and 1980s, and Randy has shared many results from back copies of his monthly newspaper. Both were instrumental in creation of this site, and the committee salutes them for their assistance in helping bring together extremely valuable documents and data.
---
Invitation to share materials for archive
Anyone with masters track and field material that might be appropriate for this archive may contact any of the committee members or write Jeff Davison at P.O. Box 8031, Laguna Hills, CA 92654, or email him at jad-calif@cox.net
How you can support our mission
Financial and other support for this site comes from the USATF Masters Track and Field Committee and USATF members. Donations to this archive and tax-deductible financial contributions (with checks made out to "USATF") are welcome.
---