Stan Whitley:  Masters Track & Field Hall of Fame
  <![if !vml]>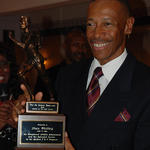 <![endif]>
Currently resides in California.  Born: 1945 in North Carolina, and raised: in
Washington D.C.    Stan Whitley has competed in hundreds of track meets, his first
while in seventh grade.

High school:
Competed at Spingarn High School in Washington D.C. in cross country and
track & field.   His senior year (1964) he was the high school Long Jump champ
at 23 feet 1 ˝ inches  (7.04 m) for the DC Metropolitan area.

College:
Competed at Allan Hancock Jr. College in Santa Maria, CA from 1965 through 1967, and
was the Calif. state champ in the long jump at 25 feet 2 inches (7.67 m) and the triple
jump champ at 49 feet 10 ˝ inches (15.20 m).  He also anchored a 4x100 relay team to
a national record of 40.7. 

Further college education, he competed at the University of Kansas from 1967through
1970.  While at Kansas he was the school & conference record holder in the outdoor
 long jump at 26 feet 8 ˝ inches (8.14 m).  He was selected as the most outstanding
athlete at the Big 8 Conference Meet at Ames, Iowa in 1969; scoring points in five
events; long jump, triple jump, 100m, 200m and 4x100 relay.  He scored more points
than the entire team of Iowa State.  Stan held Kansas school records for the indoor long
jump record at 25'-11" (7.89 m), and was part of the outdoor sprint relay in 3:16.94.
He was MVP senior in 1969 beating out team mate Jim Ryan.  

USA Olympic Trials:
Stan competed in three USA Olympic trials; long jump 1968, 1972, and 1976.
Open Athlete:
Stan long jumped over 25 feet (7.61 m) for 17 consecutive years from 1966 through1982. 
Stan is the only person in history to long jump over 25 feet in three different decades
Stan competed on many USA International teams against USSR, Great Britain, Germany,
Italy etc. from the late 1960s through the early 1980s.

Mt. Sac Relays:
Stan has competed at the Relays from 1966 to present, missing only six of the Relays. 
Set a meet record of 26 feet 5 ˝ inches (8.06 m) in 1973, defeating the gold & silver
medalist, Randy Williams and Arnie Robinson, of the 1972 Olympics. 
In 1985 Stan was inducted into the Mt. Sac. Relays' Hall of Fame. 
<![if !supportLineBreakNewLine]>
<![endif]>
Masters Track & Field:
Stan holds meet records for the Masters West Region and Southern Calif. Association
championships.  He has set world and American records in the 60m, 200m, 400m, and
long jump and holds many U.S. Indoor and Outdoor National Titles.   Stan has won gold
medal at World Games.  September 2007 in Riccione, Italy, he won the World Masters
Championship in the 100 meter dash; 12.31.  In 2000 Stan was inducted into the USA
Masters Track and Field Hall of Fame. 

<![if !supportLineBreakNewLine]>
<![endif]>
Other Achievements:
Stan has coached and is a retired high school teacher.  As an advocate for Masters Track,
Stan is presently the coordinator for the Masters on the Mt. Sac. Relays  Committee, and
twice the Relay's chair.