Alfred Al Guidet
Alfred

Guidet

dies at 90; early masters sprint champion
Alfred "Al" Guidet, a pioneering masters sprinter and record holder, died of heart failure Oct. 29 in Lancaster, California, his family reports. He was "90 years young," his three daughters said in a letter to Al's closest friends. One was Nick Newton, who shared the note with me today in a phone chat. Guidet (pronounced Ge-DAY) was inducted into the USATF Masters Hall of Fame less than a year ago. Al's last major meet was the 2005 Boise indoor nationals, where he won silver in the 60. He last competed in 2006, according to daughter Kim. In the Hall of Fame summary of Al's career, we learn that Al "set seven world and one U.S. record, mostly in hurdles events. He was the first M55 to break 24 seconds in the 200, setting a record that stood for two decades. He is an eight-time world champion."
<![if !vml]>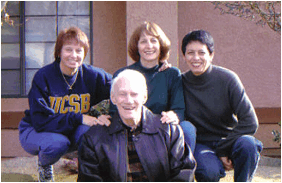 <![endif]>
Here is Al with his daughters (from left) Debi Guidet, Karen Dockery and Kim Smith at Christmas several years ago.
"He was lucky to have his son-in-law with him when he fell ill," writes his daughter Kim, "and two of his three daughters (were) with him up until the final hours."
Born March 16, 1918, Al was a career military man, according to Nick, who served in the U.S. Army himself (mainly in Germany) from 1950 to 1956. Later, Al's daughter Kim added that her dad worked for the federal government for over 17 years after almost 23 years in the Air Force, where he retired with the rank of major.
In December 1974, five years after medaling in his first masters nationals (San Diego 1969), Al was featured in "Faces in the Crowd" by Sports Illustrated, which noted that Al, "56, of California City, Calif., who holds four U.S. records in the 50-59 age group, this year ran 100 meters in 11.6, 200 meters in 24.2 and 400 meters in 56.3. In 1973 he became the first man over 50 to run 200 meters under 24 seconds, recording a 23.6."
In June 1974, his 11.60 tied a Payton Jordan world record in the M55 100. The current M55 world record is 11.44 by Bill Collins this past April at the Penn Relays. But Al didn't have many of the same fast tracks and better shoes of the current stars. He was ahead of his time while competing for the Corona Del Mar Track Club and perhaps the Southern California Striders, Nick says. Al lived in Kern County, in California's Central Valley, whose biggest city is Bakersfield.
In June 1978, he teamed with Bill Morales, Payton Jordan and Clarence Killion for a 4x1 American M60 record of 50.9 seconds, which lasted until June 2000, when a team of Ken Dennis, Doug Smith, Gary Sims and Harold Tolson ran 48.51.
Al is still the listed American record holder in the M85 indoor 60-meter hurdles (18.26, set at Boston nationals in 2003.) A pending mark of 15.10 was set by Ralph Maxwell in March.
Al's sense of humor shines through in a quote attributed to him: "The great medical advances and scientific discoveries (were) the moon landing, World War II and Hitler, the inhumanity of man to his fellow man because of race and religion. Oh yes, Marilyn Monroe.''
Said daughter Debi: "I know that running was his passion, and what kept him going for these past 90+ years. I think he was very suprised to be inducted into the Masters Hall of Fame, and that he was pleased to be able to round out his running career with this last accomplishment."
Their father "lived his life to the fullest," wrote his daughters, who are soliciting memories of Al in time for funeral services set for 1 p.m. January 16, 2009, at Golden Gate National Cemetery in San Bruno, California, just south of San Francisco.
Al will be buried with his wife, Mollie, who died June 23, 1997. According to an obituary, Mollie was an original "Rosie the Riveter," working on B-17s in World War II when she met Al, who was in cadet training. Al is survived by daughters Kim Smith, Debra Guidet and Karen Dockery, and three grandchildren - Teri Carter (Lake Oswego, Oregon), Ashley Dockery (San Francisco Bay Area) and Alison Dockery (San Luis Obispo). He also had two great-grandchildren - Emma and Evan (Lake Oswego, Oregon).
Kim can be reached at ksmith@etp.ca.gov.
And an update on Nick Newton:
A record-holding sprinter and high jumper himself, Nick turned 75 this month, and lives in a home overlooking the Salton Sea with Sheila, his wife of 51 years. Nick says he's recovering from hip-replacement surgery done six months ago at the VA Hospital in Loma Linda, California. He's walking and just now starting weights, but says he'll need another hip replacement (on his right leg) to consider a masters comeback. He's also in remission from prostate cancer, which he has battled since 1980.
He sends love to all his friends.